What is UHMWPE and what are the advantages?
Share
publisher

Polyreflex
Issue Time

Jul 5,2022
Summary
UHMWPE is a thermoplastic engineering plastic with excellent abrasion resistance, impact resistance, low temperature resistance and corrosion resistance, and is widely used in various industries.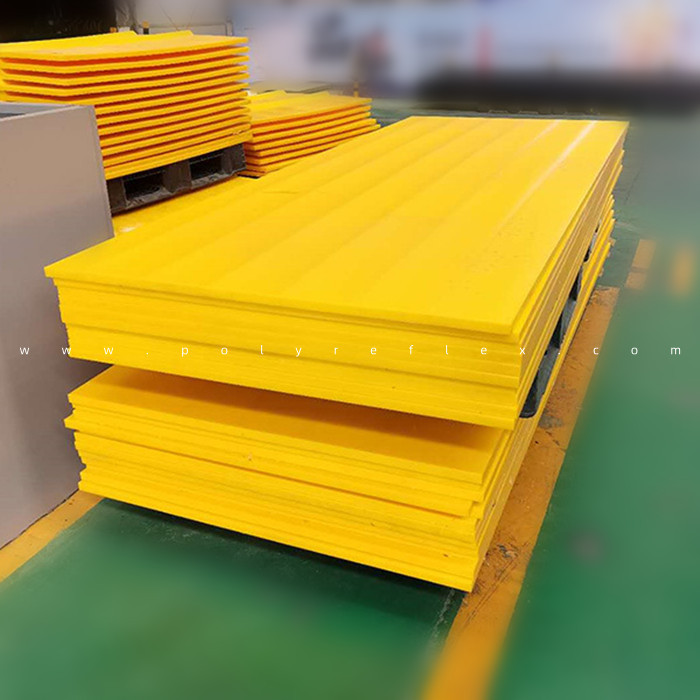 What is UHMWPE?
UHMWPE (Ultrahigh Molecular Weight Polyethylene) is a thermoplastic engineering plastic with superior performance. Ultra-high molecular weight means that the average molecular weight is greater than 2 million.
Its advantages include extremely high abrasion resistance, impact resistance, low friction coefficient, good self-lubricating ability, low temperature resistance, corrosion resistance, non-toxic and odorless, etc. Excellent chemical and mechanical properties make UHMWPE sheet widely used in electric power, marine, coking, coal, paper, textile, chemical and other industries.






What Are the Properties of UHMWPE?
1. Extremely High Abrasion Resistance

The abrasion resistance of UHMWPE can be said to be the best of plastics. Its abrasion resistance is 4 times that of nylon 66 and PTFE (Polytetrafluoroethylene), and 6 times that of carbon steel.

2. High Impact Resistance
Among many plastic materials, the impact strength of UHMWPE is also one of the best. Its impact strength is 2 times that of PC and 5 times that of ABS.

3. Low Temperature Resistance

UHMWPE can still maintain good toughness and mechanical strength at liquid nitrogen temperature (-196℃) without cracking or deformation.

4. Good Self-lubricating Ability

The self-lubricating property of UHMWPE is almost the same as that of PTFE. Its friction coefficient is 0.07-0.11.

5. Corrosion Resistance

UHMWPE has high chemical stability. At a certain temperature and concentration range, it can resist the corrosion of various corrosive media such as acid, alkali, salt and organic solvents.

6. Anti-aging

Due to the few unsaturated molecular groups in the molecular chain of UHMWPE and the large molecular weight, it has good stability and slow aging speed, thereby prolonging the service life of UHMWPE products.

7. Cracking Resistance

UHMWPE can maintain a certain deformation without breaking when it is subjected to huge external and internal pressure, or bending stress.

8. Non-toxic and Odorless

UHMWPE is a non-toxic and odorless plastic material that can be recycled and reused. It is approved by FDA and USDA for use in contact with food and drugs.

Taking full advantage of the advantages of ultra-high molecular weight polyethylene (UHMWPE), we can apply it where it needs to resist friction, impact, ultra-low temperature, and corrosion.
POLYREFLEX HI-TECH
has been a top manufacturer and supplier of
polyethylene sheet, UHMWPE,
polypropylene sheet and other thermoplastic sheets in China since its establishment in 2006. We are committed to the development and manufacture of high quality plastic sheet, lightweight polypropylene sheets, including pp corrugated sheet, pp honeycomb board and pp bubble board. If you would like to know more about our products, or to get a quote, please feel free to contact us at
sale@polyreflex.com
or WhatsApp us at
+8613828266785
.