How to tell whether PP corrugated sheet can be used for printing?
Share
publisher

Polyreflex
Issue Time

Sep 26,2022
Summary
PP corrugated sheet is one of the most popular materials used as signboard. But not all can be printed. How to tell if it is suitable for printing? All you need is a dyne pen. Click to learn more.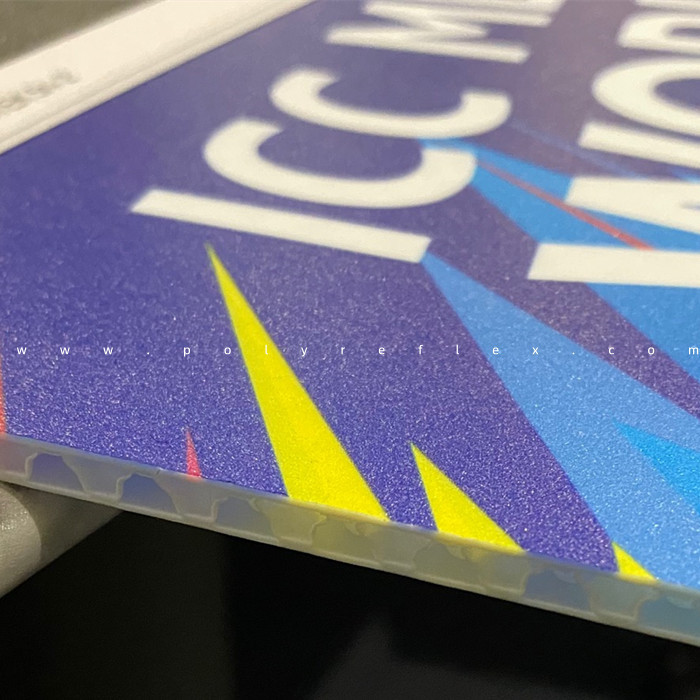 PP corrugated sheets are mostly known to the public as signboards. Its light weight, flat sheet shape and excellent print performance make it an ideal advertising material. However, what you may not know is that not all PP corrugated sheets can be printed. Only those that have been corona treated can be printed.
What is corona treatment?
Corona treatment is a kind of electric shock treatment, which uses high frequency and high voltage to corona discharge on the plastic surface to be treated, thereby generating low temperature plasma to change the characteristics of the plastic surface and make it have higher adhesion.

Why do corona treatment for PP corrugated sheet?
Polypropylene is a non-polar plastic. One characteristic of non-polar plastics is poor adhesion to printing inks or adhesive materials. The purpose of corona treatment is to change the surface energy of PP corrugated sheet and rearrange its surface molecular structure, thereby enhancing the adhesion of printing ink on PP corrugated sheet.

How do I know if my PP corrugated sheet is printable?
To know whether it is suitable for printing, that is, to judge whether this PP corrugated sheet has been corona treated. However, the truth is that it is indistinguishable from its appearance. There is no difference in appearance between a corona treated PP corrugated sheet and a PP corrugated sheet without corona treatment.
The method is simple: all you need is a dyne pen and it can be easily tested. The dyne pen can have different dyne values, it can test whether the results of corona treatment meet the requirements, and the approximate dyne value of the surface of the plastic sheet.
The Dyne test is quick and easy. First, choose a dyne pen with the dyne value you need. Use this dyne pen to draw a line on the surface of PP corrugated sheet. If it is in a continuous line, it means that the dyne value of the board is higher than the dyne value of the dyne pen, and it can be printed. If it is intermittent and cannot be connected into a line, it means that the board surface has not been corona treated or the corona treatment is insufficient, which does not meet the printing requirements.
Finally, it should be noted that the effect of corona treatment will gradually weaken after the corona treated PP corrugated sheet is placed for a long time. We should use it for printing as soon as possible after corona treatment.
POLYREFLEX HI-TECH
has been a top manufacturer and supplier of polypropylene sheets and other thermoplastic sheets in China since its establishment in 2006. We are committed to the development and manufacture of lightweight polypropylene sheets, including pp corrugated sheet, pp honeycomb board and pp bubble board. If you would like to know more about our products, or to get a quote, please feel free to contact us at
sale@polyreflex.com
or WhatsApp us at
+8613828266785
.